Friday Night Lights Crucial Catch Game – Carmel vs. Marist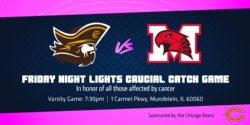 What

Friday Night Lights Crucial Catch Game – Carmel vs. Marist

When

10/15/2021, 7:30 PM

Where

Baker Stadium, Carmel Catholic High School
Honoring Those Affected by Cancer · Giveaways · Football Toss and Mini Monsters · "Real Bears Fans Wear Pink" T-shirts · Bears alumni · Fan and Player of the Game
When Carmel Catholic meets Marist High School on the football field on Friday, October 15, things are going to look a little pink. As part of the National Football League's 'Crucial Catch' initiative to fight cancer through early detection and risk reduction, the Chicago Bears will support that night's game with a series of on-site events.
Beginning at 5 p.m., children and teens will be invited to participate in a skills challenge area while 'Real Bears Fans Wear Pink' T-shirts will be on sale with proceeds benefitting Bears Care in support of cancer research and awareness.
Popular Bears mascot Staley Da Bear will be on hand throughout the night to meet and greet fans while those in attendance will be encouraged to visit a special ribbon table and pick a specially-colored ribbon "In honor of" or "In remembrance of" someone they know who personally fought or is fighting cancer. Special honorees who have been affected by cancer will be honored during the coin toss as well as at halftime."
The Chicago Bears Monster Squad will be tossing giveaways into the stands throughout the game and special Fans of the Game will be selected from both the Carmel Catholic and Marist crowd as well as a Player of the Game from both teams.
---
Recognize Loved Ones Affected by Cancer
We extend the opportunity to honor or memorialize a loved one so that the individual can be recognized during the Crucial Catch festivities.
You may also nominate an individual who has survived or is currently battling cancer to be an honorary captain, recognized on the field during halftime.
---
"Real Bears Fans Wear Pink" T-shirts
You can order "Real Bears Fans Wear Pink" shirts from Bears Care, the charitable arm of the Chicago Bears, at chicagobears.com/pink. Funds raised through the campaign, now in its 14th year, benefit Bears Care and will help support organizations that provide care assistance and support to breast cancer patients and their families throughout Chicagoland, with nearly $1.4 million distributed to date.
CCHS Student Order Delivery
Online ordering for delivery to Carmel Catholic High School will be available from 9/28-10/8 (closes at 12 PM.) Students, please make sure that on the order page under "Delivery Options" to select: "Pick Up @ CCHS, Mundelein, IL (Order by 10/8/21)" since your shirt will be delivered and distributed to you at school. You will need to complete your purchase at the time you order your shirt. Also note, we will not be able to exchange shirt sizes at pick-up so please review the sizing information provided on the website before placing your order.
All other fans who purchase a shirt must utilize an alternative pick-up location/method (i.e., Bears Fit or FedEx) or make their t-shirt purchase at the game ($30).
---
Game Tickets and Reserved Parking
To purchase tickets for this game, visit our Ticket Spicket home page. Please note that Carmel Catholic students receive FREE admission to all regular-season home events with the presentation of their school identification card. General admission pricing for other guests is set at $5.00 and all online transactions are subject to a Ticket Spicket processing fee. Cash is not accepted.
Also, purchase a reserved parking space in Camp Corsair, which will be located in the south stadium parking lot. These oversized parking spaces—sold exclusively online and limited to just 126 customers each game—will allow families an opportunity to celebrate the football season as a community. Bring your grill, your tents, and your friends and head on over to Camp Corsair!
Copy to Google Calendar
•
Download iCal Event